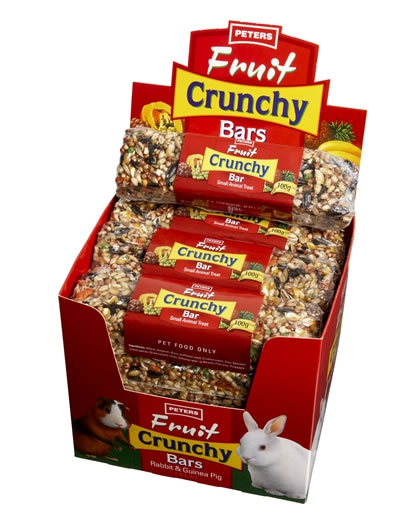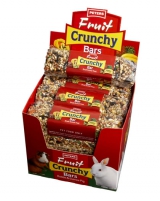 PETERS
PETERS CRUNCHY BARS

A reputation for quality since 1950.
You can rely on quality and service with E&A Salce.

Fast, efficient delivery.
Our own fleet of delivery trucks ensures prompt delivery everytime.
Product details
Peters Fruit Crunchy Bars are tasty treats made from crunchy grains and seeds and dried tropical fruits for pet rabbits, guinea pigs, mice and rats to enjoy.

Hang a Fruit Crunchy Bar on the side of the hutch to entice your pet to reach up and nibble it. Helps to keep your pet active and stimulated when confined to the enclosure.
The wooden core is made from renewable forest timber and is safe to chew.
Suitable for all breeds of adult rabbits, guinea pigs, mice and rats.
Feed Peters Fruit Crunchy Bars as a supplement to your pet's main diet.

647 High Street Thornbury Vic 3071
Ph: (03) 9484 3805
31 Ricky Way Epping Vic 3076
Ph: (03) 8405 3802

Warning: require_once(./templates/hdr_tmpl/retailer_join_form.php): failed to open stream: No such file or directory in /home/abuco/ABU_SHOP/USER_FOLDERS/salce.com.au/templates/ftr_tmpl/ttg_footer.php on line 135

Fatal error: require_once(): Failed opening required './templates/hdr_tmpl/retailer_join_form.php' (include_path='./:./functions/:/home/abuco/ABU_SHOP/USER_FOLDERS/salce.com.au/:/home/abuco/ABU_SHOP/USER_FOLDERS/salce.com.au/includes/:../../WWW_LIB/includes/Cache/:../../WWW_LIB/:.:') in /home/abuco/ABU_SHOP/USER_FOLDERS/salce.com.au/templates/ftr_tmpl/ttg_footer.php on line 135